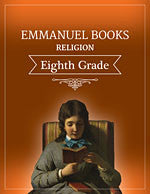 Eighth Grade Religion Lesson Plan (Confirmation Plan too)
Sale price Price $ 15.00 Regular price
 Eighth Grade Religion Lesson Plan PDF, 12 pages (32 weeks), Grade 8—Parent
This grade we will concentrate on our call to holiness.  The plans use the Faith and Life text, Our Life in the Church as the main core text, rounding out the year with corresponding catechism questions to work on each week and suggested saint stories. This year's lesson plan is an excellent preparation for their Confirmation. 
Many dioceses have moved the timing for this sacrament to younger years so it is also fitting as a reinforcement of their Confirmation commitments.  
Each book from the Faith and Life series is written by a different author and I particularly love this grade in its clear narrative and outline of our call to holiness.  
Included are optional writing prompts for short essays for each chapter.