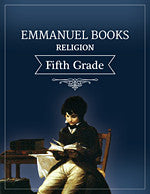 Fifth Grade Religion Lesson Plan
Sale price Price $ 15.00 Regular price
Fifth Grade Religion Lesson Plan PDF, 22 pages (32 weeks), Grade 5—Parent
This grade of religion we study, as we recommend throughout the grade school years, a the threefold study of Catholic Catechism, lives of the saints, and Salvation History. 
These should all be tailored to the child's natural stage of understanding. This year we will concentrate on the elements of the Creed, what we Catholic believe. Catholic belief is succinctly expressed in the profession of faith or credo called the Nicene Creed, using the Faith and Life text Credo:I Believe, along with the first third of the St. Joseph Baltimore Catechism which pertains to the Creed.
Each book from the Faith and Life series is written by a different author and I particularly love this grade in its clear narrative and outline of our beliefs. This year the student will have the opportunity to read about several saints in longer novels.  They can choose their own but I outline some of the American saint stories suited for this age so they may line up with a study of American History usually chosen at this grade level. 
I especially love the Glory of America Series, a breath of fresh air and major improvement over the Dear America and American Girl books, in that these are about real people, and real events of the heroes of our faith who held to their beliefs and love of Jesus. There will be a total of nine saint novels but of course if your child really enjoys this, do add more.
I have included an optional Character Education lesson plan at the end of the regular lesson plans,  using the Program for Achieving Character Education (PACE) by Monica Speach.