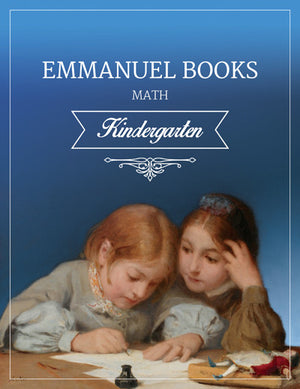 Kindergarten Math Lesson Plan
Sale price Price $ 10.00 Regular price
Kindergarten Math Lesson Plan PDF, 19 pages (32 weeks), Parent Resource  
Twenty-five years in the making, I present to you my lesson plans. These brand new lessons plans are born from the experience I have obtained in reviewing thousands of books and consulting with hundreds of families over these past twenty five  years. I  have successfully graduated all seven of my children from my very real and not perfect homeschool. All seven have graduated from college too! They are now contributing  their talents to the world.
I heartily believe in homeschooling as a viable and preferable way to educate.  
 "Grateful for the experience to tailor each child's curriculum to meet their individual needs we want to pass on the blessings we have gained. In an effort to help parents customize their child's curriculum we offer individual subject lesson plans.  We often had to tweak lesson plans to move ahead in some subjects while slowing down in others. By having them laid out by subject you will find more options to pick and choose from, to find what works best matching curriculum to each child's learning style and stage of development."   ---Paola Ciskanik, Emmanuel Books 
I believe that Kindergarten is all about joy, discovery and wonder. Therefore you will find in this 32 week day-by-day lesson plan your child will gain foundational skills as you delight in the step by step suggestions outlined in this year's Math study of "playing games." These all too often overlooked skills are delineated for you in these lesson plans, such skills as sequencing, patterning, classification, skip counting, number recognition with symbols, time, seasons, money, and more.  Developed by the desire to instill a love of learning it will help the parent teach for mastery learning. In addition, there are picture book suggestions that correlate to the math concepts introduced as well as a grading chart for your record keeping. More grades and subjects coming soon!....