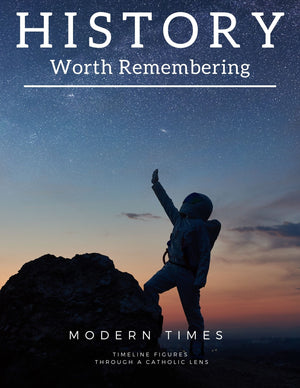 History Worth Remembering Timeline Figures VOL. 6: Modern Times eBook
Sale price Price $ 15.00 Regular price
History Worth Remembering Timeline Figures VOL. 6: Modern Times 
PDF download, 13 pages
History teaches us to honor those before us! We can do that easily by studying history through timelines.
For years we searched high and low for timeline figures that included a balanced Catholic perspective on history, where the contributions of Catholics throughout time are fairly represented in the context of other events. Finally we embarked on our own venture and present to you what we hope will be your jumping off place to a rich and lively study of history.
These are perfect for multi-age learning history as your pegs to hang the important moments that formed us! Join us in the past!!
These timeline figures are designed so your child can color them if they chose to, cut them out and place them in appropriate places on their very own personal timelines.
We recommend using durable and sturdy blank books, especially the hard bound spiral versions.They can even be placed on index cards or laminated to be used as a history trivia games or on a large bulletin board in your family school room showing the complete span of history. 
Just download and save for family use! You can print on 8.5 x 11 sheets or sticky-back paper.
You will find many uses for these timeline figures on your own too! All grades. 
117 People and Events including:
St. Damien of Molokai, St. Therese of Lisieux, Otto Von Bismarck, Alexander Graham Bell, Thomas Edison and the First Light Bulb, Karl Marx, St. Katherine Drexel, Spanish American War, Teddy Roosevelt, Queen Victoria, Wright Brothers & the First Planes, Henry Ford, Helen Keller, Pope St. Pius X, Padre Pio, Nicolas II, Assassination of Archduke Franz Ferdinand of Austria, WWI, Fatima (Jacinta, Francisco, Lucia), Russian Revolution, Bl. Miguel Pro, The Great Depression, President FDR, Prohibition, Hitler, Mussolini, Tojo, and Stalin, WWII, Gen. MacArthur and Patton, Eisenhower, St. Teresa Benedicta of the Cross, Mohandas K. Gandhi, Archbishop Fulton Sheen , JFK, Vatican II, Moon Landing, Watergate, Pope St. John Paul II, Ronald Reagan, Mother Teresa, and much, much more!