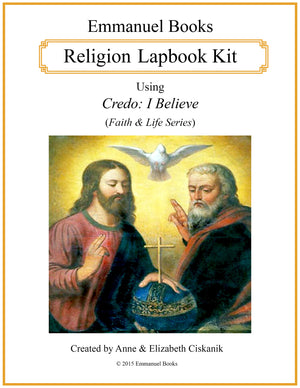 Religion Lapbook Kit using Credo: I Believe
Sale price Price $ 10.00 Regular price
We personally designed this Credo: I Believe Lapbook Kit specifically to coordinate with the chapters and topics found in the religion text, Credo I Believe from the excellent Faith and Life series.  
It has been our experience that by making mini-books that focus on the important topics covered in the text your student will successfully retain what they have discussed and studied.
This is real learning, learning that makes concrete what is abstract and fosters ownership, such that it paves the way to a relationship with our Lord.  When the study involves making each chapter personal but grounded in the truths presented in each chapter we make possible an opportunity to truly pass on our beautiful and rich faith!
This is also perfect for the beginner who wants to learn the art of lapbooking or the advanced lapbooker who wants beautifully designed templates. The kit contains extensive instructions of how to fold each template to make a variety of mini-book styles. Once learned you will find your kids suggesting ways to use these fold for topics of their own interest.  
Many of the standard types of folds work to naturally and easily reinforce newly learned concepts in your child's mind. This is accomplished by helping them to organize their thoughts and create their very own teaching materials to retain what they have just read and discussed. 
Each mini-book template can be used over and over again by each family member and can be easily printed on plain paper or cardstock, and personalized. 
Here is a sampling of the minibooks you can make with this kit:
The Trinity three flap mini book

Who Are Angels matchbook mini book

Made in God's Image three flap mini book

Original Sin two flap mini book

Symbols of Salvation vertical five flap mini book

The Ten Commandments shutter fold mini book

The Holy Family and You  

The four flap mini book Prayer cards

A Saint Report form

Vocabulary and so much more....
Religion Lapbook Kit using Credo: I Believe (Faith & Life Series) PDF, 40 pages