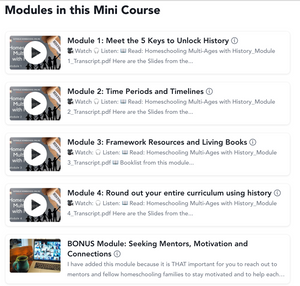 Homeschool History Family Style
Sale price Price $ 23.00 Regular price $ 47.00
If you are feeling totally s-t-r-e-t-c-h-e-d.......in your homeschool, here is the help you asked for....
How to homeschool all the multiple ages in your family!
The best way to simplify your homeschool life is to combine ages.
But HOW?
What subject works BEST?
How do I choose the BEST books to use?
How can I feel confident?
I get it! I have asked the same questions and so have hundreds of families I have coached for over 25 years.
So I made it simple, easy, and done for you too!
In this BRAND NEW mini-course, Homeschooling Multi-ages using History, I (Paola) walks you through the 5 keys that makes this super easy!
Begin today to feel confident, calm, and ready to have the homeschool you imagined.
You can do this course in an afternoon or at your own pace. It is located in our private, safe community so you can find others doing the course with you at the same time to share and encourage!
All modules are pre-recorded, and include a "done for you" lesson plan, booklists, and resources too! 
This is history family style!
Use Paola's family and time tested method to teach multiple ages in your family today to bring back CONFIDENCE, JOY, WONDER, AND DISCOVERY TO YOUR HOMESCHOOL.
WHEN YOU PURCHASE YOU GET INSTANT ACCESS TO THE 4 MODULES AND "GET IT DONE ACTION SHEETS."
24/7 access use to all the content, ability to post questions, and get feedback in the SAFE AND PRIVATE community.
All modules are in video, audio, and transcript form as well as downloadable PDF presentation slides and resources.
You also get the BONUSES:

Done for you Medieval Times Family plan
Booklists
Action Guide