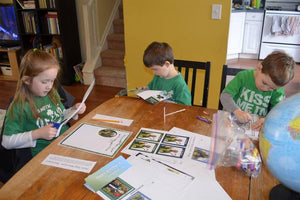 St. Patrick Family Style
Sale price Price $ 6.97 Regular price $ 11.00
Want to celebrate St. Patrick's Day as a true Catholic feast day?
Use this unique and amazing collection of religion lessons and crafts for your homeschool to get to know the REAL St. Patrick. 
Forget the leprechauns, forget the pots of gold, instead learn the truly miraculous and inspiring story of this most beloved saint.
There is nothing out there to even come close to telling the REAL significance of St. Patrick and his contribution to the Irish people but to all Catholics.
There is much written about this beloved saint and many saint anthologies contain a brief synopsis of his life. Most know that he is the patron saint of Ireland and is most notably responsible for its conversion to Christianity....making Ireland become the land of "Saints and Scholars."
There are numerous legends surrounding his life but the best way to come to know the true saint is through his own writing and in particular his testimonial, "Confessio", which is included so you can read aloud with your entire family!
Come to understand about the beginnings of St. Patrick's Day celebrations, learn how to make and pray the chaplet prayer to St. Patrick, make reverent and beautiful faith-filled cards to send to family and friends to reclaim the richness of our Catholic traditions and feast days!
Downloadable PDF, 24 pages, All ages 
Included in this kit:
St. Patrick Biography and Facts
The Story of how St. Patrick's Day celebrations began  
The REAL meaning behind the symbols of St. Patrick's Day
Directions and prayers and Details to make a St. Patrick chaplet
Family Read Aloud: St. Patrick's Confession (Autobiography) 
3 Coloring pages:  Saint Patrick, Book of Kells, Celtic Cross 
Mini book templates (2 different - three flap books horizontal and vertical)
Notebooking pages-2 versions with lovely images
Full-color Beautiful and classical Holy Cards with St. Patrick prayers
Holy Cards in outline versions for kids to color and share
Printable St. Patrick's Day cards to send (2 versions, with prayers and ones to practice handwriting)
"The kids really enjoyed doing this activity packet and are looking forward to using it this year. The stories were so interesting, for both children and adults, and the beautiful illustrations and activity pages truly bring the history of St. Patrick to life. A truly customizable thing, you can chose to print just a few pages or the entire packet. I know it will became a tradition for years to come as we celebrate St. Patrick's Day in our home." — Sarah S.
Thank you for supporting our family business and respecting our copyright of this material for single family use. For classrooms or large groups email us.