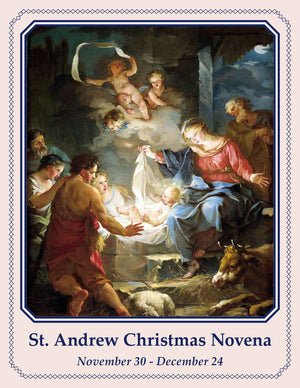 St. Andrew Christmas Novena Holy Card
Sale price Price $ 0.00 Regular price
We'd like to offer you this St. Andrew Christmas Novena holy card at no charge as a token of our appreciation for you in the season of Advent! This two-sided holy card features classical artwork on the front side and the Christmas Anticipation Prayer on the reverse.
... And have a blessed Advent this year!
Christmas Anticipation Prayer, also known as the St. Andrew Christmas Prayer starts November 30 the feast of St. Andrew through Christmas Eve, December 24th!
This meditative prayer is traditionally said 15 times a day to help us reflect on the TRUE meaning of Christmas, the birth of our Savior Jesus Christ!
Since it is a downloadable PDF file ONLY ONE (1) copy is needed.