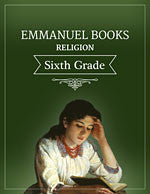 Sixth Grade Religion Lesson Plan
Sale price Price $ 15.00 Regular price
Sixth Grade Religion Lesson Plan PDF, _ pages (32 weeks), Grade 6—Parent
This year we will concentrate on Salvation History using the New Testament and in particular, we will study The Gospels of St. Mark and St. Luke, using the actual readings from Holy Scripture.
We will use the Ignatius Catholic Study Bible, for its rich annotations, references to other texts in the Bible and Catechism.  We will also use the study questions for discussion prompts.  I often found that the material was rich in its content and touched their hearts in such a way that opened up discussions towards their relationship with God. Time is best spent once a week discussing the chapters. 
How do you begin discussions of such weighty stuff? 
We will use the Study Questions and Questions for Application that go with each chapter. We use the Catechism questions in the Study Guides and an optional plan for using the same procedure employed in previous years of memorizing and discussing the questions and answers from The New St. Joseph Catechism No. 2. 
Every year we provide time in getting to know several saints through their stories. They can choose their own but I outline some of the saints stories suited for this age and in particular ones our own children thoroughly enjoyed and some of which they read multiple times. These can be read for the pure enjoyment of getting to know a few saints this year.  
I have included Character Education, by using the Program for Achieving Character Education (PACE) by Monica Speach.  It is offered as an optional lesson plan to use this year.