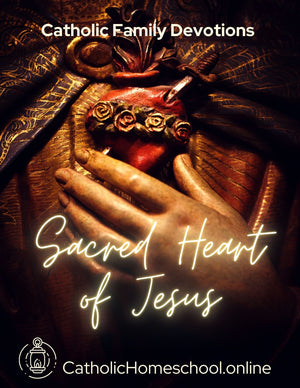 Catholic Family Sacred Heart of Jesus Activity Kit
Sale price Price $ 5.00 Regular price $ 10.00
Our family has dedicated our business to the Sacred Heart of Jesus. 
Traditionally, the month of June is dedicated to the Sacred Heart as the feast day falls within the month. 
It is, however, wonderful to choose any time of year to begin or continue a love of our Lord through the devotions and prayers to His Most Sacred Heart-not only does the dear Lord deserve our adoration and attention but more importantly our love!
 This devotional family kit contains instructions to make several hands-on and faith-filled devotionals:
A 10 page prayer book that can be printed and shared with family and friends
2 Sacred Heart holy card designs with a prayer on the back
Instructions, sample pictures, and templates for making Sacred Heart personal shrines with three different designs to choose from
A "fan mini-book" that contains the 12 promises of the Sacred Heart
A Sacred Heart Coloring page
2 notebooking page designs perfect for retellings or narrations of the saint biography and/or history of the Sacred Heart devotion. You could also use it for handwriting practice by copying the text from the prayer booklet, holy cards or history page.
A St. Margaret Mary "matchbook mini-book" template
A "Saint Report" template to be filled out and added to any religion curriculum
A history sheet on the Sacred Heart devotion